August 2017
| Mon | Tue | Wed | Thu | Fri | Sat | Sun |
| --- | --- | --- | --- | --- | --- | --- |
| | 1 | 2 | 3 | 4 | 5 | 6 |
| 7 | 8 | 9 | 10 | 11 | 12 | 13 |
| 14 | 15 | 16 | 17 | 18 | 19 | 20 |
| 21 | 22 | 23 | 24 | 25 | 26 | 27 |
| 28 | 29 | 30 | 31 | | | |
Calendar

Race1 and Qualifying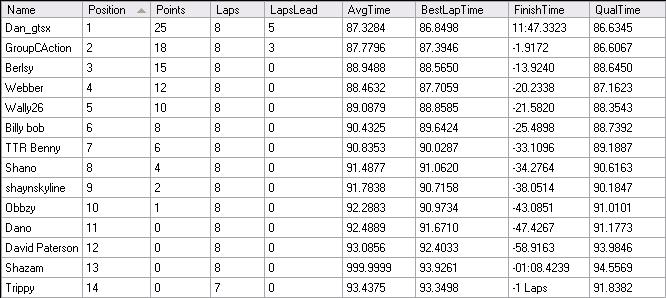 Race2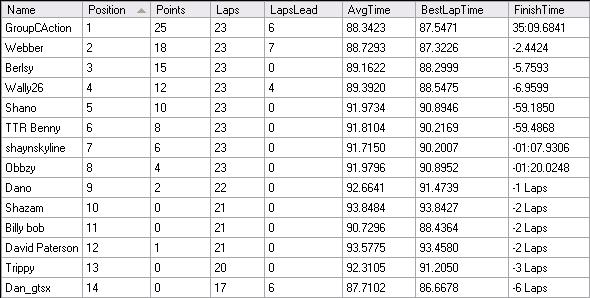 Class 2:-
This round results only.......
Wally26 - 50pts
TTR Benny - 36
shaynskyline - 30
David Paterson - 24
Shazam - 20
Trippy - 16
Last edited by Wally26 on 5/30/2011, 5:34 am; edited 1 time in total

Wally26




Posts

: 627


Join date

: 2011-01-09


Age

: 51


Location

: Brisbane



Quali: Never had the raw speed here , have been having a real drama with holding my tyres together but over one lap I thought I could match Dan. Noticed he did a 26.6 and I think that was a PB for him. I strapped on a new set of boots for one final go at pole. Picked every apex to perfection to set my own PB and take pole by 0.028!! The highlight of my night!

Race 1: I got a good start, got into turn 1 still in the lead but from there Dan pulled me in lap after lap until I made a mistake, out broke myself and let Dan through. From there he slowly pulled away as my soft front tyres went off... Finished 2nd

Race 2: Started 7th, got a really good start I think I got up to 4th by turn 1 behind Webber, Shano & Wally... Through the long turn 3 Dan made a massive pass round the outside of myself and Wally. Took me a lap to clear Wally and Shano who were driving great. From there it was all about keeping the tyres in tact for aslong as possible. I took the lead once i think both Webber and Dan pitted, I battled on till lap 16 with 2nd tyres. Pitted and I came out in 4th, behind Wally leading from Billy Bob, Dan, myself and Webber in 5th, i caught Billy Bob who's tyres must be shot but I made a mistake and collected Billy (really sorry mate, I misjudged your braking). Which we both spun, by the time I got goin again Webber snuck past and from there Wally pitted from the lead leaving me to chase down Webber. At this stage of the race I had alittle more pace, I caught Webber but once I got there my tyres again had gone off, I gave Webber a touch into the last corner which unsettled his car, I got passed but readdressed it and let Webber back through. To the last lap we were nose to tail out of five I got underneath Webber we banged doors Webber ran alittle wide into the next corner I got under him but then missed the next apex which he tried to get under me, we touched & I spun! Webber did a massive gesture by waiting for me to come back passed in which I took the race out.

Webber I really am sorry for prob racing alittle to hard with my elbows out, I'll try to race alittle cleaner in future, again I'm sorry mate

groupcaction




Posts

: 270


Join date

: 2011-04-04


Age

: 37


Location

: Sydney, Australia



Qual 
Stuck the softs on and headed out with 10 mins fuel  started out straight in the 29's and then second lap PB with a 1m 29.423 over cooked it the next two laps let the tyres cool down and came back with 1m29.1??. Was wrapped with this time is was only good enough to put me seventh but I was a second quicker than other class 2 cars other than Wally who had hired the stig to chauffeur him for the weekend in the merc. Wd Wally not only single lap pace the whole night was perfect I only saw you once when you lapped me race two before your stop.

Race 1 
Got a good start but shano got a better one from behind me. Once we settled in myself shano and shaynskyline had some great battles  all the way to about two to go when I managed to stick it up the inside of shano and make a little break heading to line finished 7th

Race two 
Front row and got a shocking start 8th by first corner was running on hards this time and struggled for quite a few laps shaynskyline got through and was challenging  shano while I was trying to follow playing catch that rear end every corner. Put on nice drifting display for ozbby following me. Dano got near us coming on to the straight and drove on by all three of us. For the next 8 laps we were all bunched up with the big Vk coming past every now and then and with Dano driving outstanding in the big stang to hold us out for that long. My car only got better as the race went on and about lap 18 I came in the the pits for a splash of fuel as I was going to be a 2 laps short and I popped out just behind shano after his stop. I did everything I could to make a move but with little extra HP he had I could only sit behind him down the straight not having the grunt to make a move. The rest of the track shano as he did all night just drove his line never blocking and held on by about .5 of second to cross the line in front of me.

Great night again hopefully can make a few more races before the season finishes 
_________________
3rd 2010 BMW Series - 2nd 2011 TCL Series - 2nd 2011 NZV8 Series
1st 2011 Porsche Series - 2nd= 2011 V8 Supercar Series 2 -
2nd= 2011V8 Endurance Series
3rd 2012 NZV8 Series
-
2nd 2012 V8 Supercar Series 1
1st 2012 NZ SuperTourer Series 1

TTR Benny

Admin




Posts

: 2185


Join date

: 2010-11-01


Age

: 42


Location

: Sunbury Victoria Australia



First of all, I would like to thank all of the drivers for making this event so smooth. There was no major first turn crashes which resulted in no restarts.
Everyone also stayed on and ready to race so there was no restart warmups waiting. Well done everyone.
Qual, I had practised heaps for this track and knew I could get a 28 here. That was enough to get me ahead of the rest of class 2 guys.
Race 1, Ran most of this race in a Bersly/Webber/Billy bob commodore sandwich. On lap 3 Webber spun it on the tight right hander. Snuck past there only to spin myself on the very next corner. Sorry Billy bob (who collected a Merc facing the wrong way here)
Billy made a coupld of mistakes which allowed me to hang in behind webber the last few laps.. 1st in class.
Race 2, This is the best ever complete race I have ever run in rfactor at any time. The first flying lap was a 31, then apart from a very low 1m30.0xx, every other lap was in the 29's and a couple of 28's after my pitstop. Almost missed the pit entry again but apart from that my best race ever. Think I was 4th overall with another 1st in class result.

W26

Wally26




Posts

: 627


Join date

: 2011-01-09


Age

: 51


Location

: Brisbane



Great nights racing, had a ball.

Qualified 11th??? I think with a 1:31.01. I knew i was gonna be slow, so
my goal was to not fly off the track too often during the races.

R1. Off to a slow start, 13th by first turn, but got up to 11th fairly quickly.
Ended up behind Dano for most of the race. Dano had me covered until
the first corner on the last lap when he ran wide, allowing me to scoot
through into 10th.

R2. Got a good start, only to blow it on cold tyres in turn 1, ending up last.
managed to get back into the battle with Dano, Shaynskyline, Shano & Benny,
which was an absolute cracker of a five way dice. Tyres went off and pitted
after 12 laps. Then had a battle to round up Dave in his M3 (took quite a few laps)
but ended up 8th after everything, so reasonably happy considering I couldn't
get the VK to handle at all (I jumped in an M3 during the week & was faster
on standard setup!!!).

Nurberg should suit the VK better so hoping for an improved showing.
Catch yas on track

Cheers
_________________

OBBZY

"You know you're in trouble when the first person to get to you after a wreck is carrying a beer"- Jimmy Horton

Obbzy




Posts

: 230


Join date

: 2011-04-13


Age

: 46


Location

: Hobart, Tasmania





Qualifying- only got a couple of laps for qualifying but managed to get fifth, was pretty happy with that

R1 - got a got start and was behind the two sierras, webber and wally for the first lap, got passed wally down the front straight but he caught back up to me in the twisty stuff. passed webber when he had a spin at the hairpin to take third. didn't have a hope of getting near the sierras so settled for third

R2 - had a resonable start and was running sixth, got past shano and was battling wally for forth. got past wally down the straight again but ran a little bit wide and billy bob got passed me with wally glued to my back bumper. had a great battle with billy bob for a few laps till he ran off in turn 3. from there i tried to keep pace with the front runners but was struggling and after about ten laps my tyres were buggared. pitted on lap 14 i think and came out in 10th behing dano. got passed him and started to chase down the group of beemers. got passed the beemers in the next few laps and was running forth. wally pitted which put me in third but my tyres were getting sad again. managed to hold off the fast finishing wally to take third but if the race was any longer i would of been in trouble.

thanks for a great night, had a bloody ball

Berlsy




Posts

: 102


Join date

: 2011-03-02



is there any NZ runners this race ??????????

Wally26




Posts

: 627


Join date

: 2011-01-09


Age

: 51


Location

: Brisbane




Similar topics
---
Permissions in this forum:
You
cannot
reply to topics in this forum